BF Utilities has had a stellar run from low 100's. Under the Elliott Wave model the current decline from 670 to 490 seems to be a wave iv correction. There is a good probability that the low of Friday, 490 marked the end of wave iv. As can be seen from the chart below, I'm interpreting this wave iv as a sub-wave of a large wave 3.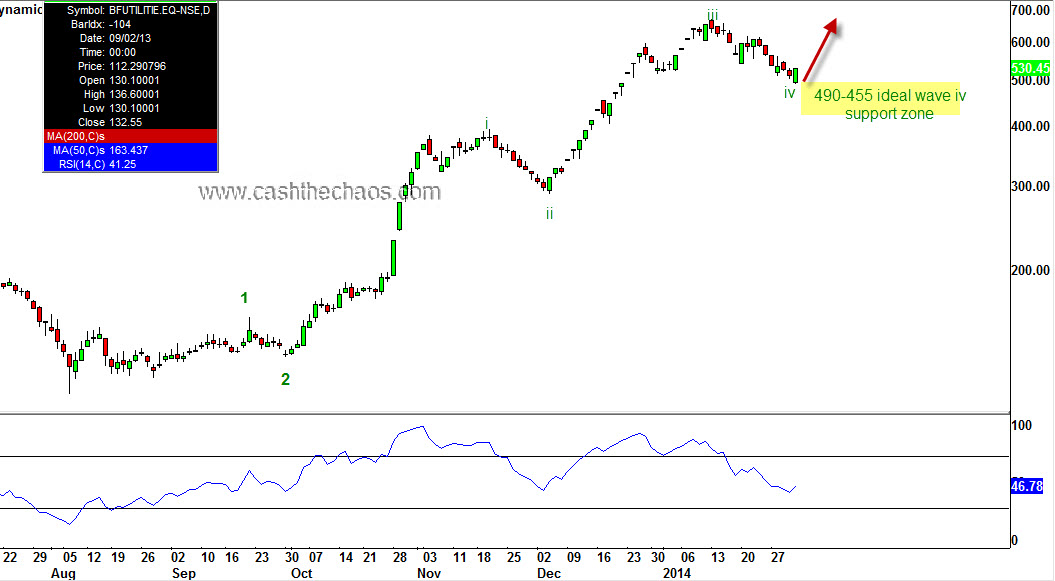 Hence, if we are seeing the beginning of wave v of Wave 3, we are likely to see BF Utility rise to atleast 824 (typical wave v ending point) and ideally 895, as  wave iii was normal and wave v would extend. Eventually, the larger wave 5 would send this stock to north of 1100.
Hence, I would look to create go long on BFUtility, 1/3 to 2/3 of my normal trading size at current levels (530) and look for 895. In the event wave iv is still ongoing, I would look to add balance closer to 490 and 460. Once we see a cross above 620, we can be confident that the move to 895-1100 is underway.
I will email you through updates as to where to place your stop loss orders but at the moment, I do not see BF utility dropping below 460.
Disclosure: I have earlier recommended this to my clients as a multibagger around 300 levels for a target of 1300.
PS: Make sure you save a copy of this report as this is a pay per view report.
Update to post on March 22nd 2014 (via email to subscribers):
536 CMP. LIMIT UP. If you stuck to the original idea, we are currently sitting on a profit of 10%, if you added more during the decline to 431 as per email of 17th, a slighthly higher MTM profit. I suggest booking 1/3 of the qty now. When the stock crosses 605, you can add back this 1/3rd. OR stay in the trade for the rest of the ride with 2/3rd of your position - its all up to you. Remember, always play extreme defence, the profits will roll in.
Update to post on March 17th 2014 (via email to subccribers):
I just want to let you know that despite Friday's weak price action, I see
no change in the longer term price structure. Remember, the original idea
was to buy in stages at 520, 490 and 460. And the confirmation to 800-1100
was only when the stock crossed 605-20. Please re-read the original post.

Great traders always look at minimizing risk. So when the stock moved 10%
in your 

favour

 to 590+, you should have taken a bit of profit. If you did
not.... 

well

, we can always learn. Trading is a learning school for a


lifetime

.

Coming to the short term structure, we may see a drop to 420-15 before a
bottom is formed. How you manage your risk is in your hands.
Legal Disclaimer: This post gives an idea of how a trader chooses low risk entry points for trading and hence what you see in this post is for educational purpose only. This is no solicitation to buy, sell or hold any securities. I'm not a registered investment advisor and I strongly urge you to consult one if you are going to act on the above idea. If you decide to take action on the above idea, you are agreeing that you take full responsibility for the profit or loss that you may sustain based on such decisions and agreeing to indemnify the author of the same. You may have seen me on TV suggesting successful trade ideas but remember trading is inherently risky and past performance is no guarantee of future outcome.
Note: This was a premium digital content and has now been unlocked after the stock scaled 680 (50% up if one managed the trade as per the post and mail updates)