Sun pharma has been the best performing stock in the Nifty index for the last 5 years and the trend still seems to be going strong.
The stock is making consistent higher high and higher lows. At the recent low of  562, the stock may have completed a minor wave 4  under the Elliott wave model and a trendline from the year low also passes just below that.  With today's 4% move, the stock is looking like it has started its 5th wave up.
So, it makes enormous sense to place a stop below 560-555 (on a daily closing basis) and go long on this stock. If the wave count is correct, we should see Sun Pharma clock at least 650-674 in the next 2-8 weeks.
If for some reason, the stock drops below 555 on a closing basis, we are wrong and will have to exit the trade at a loss.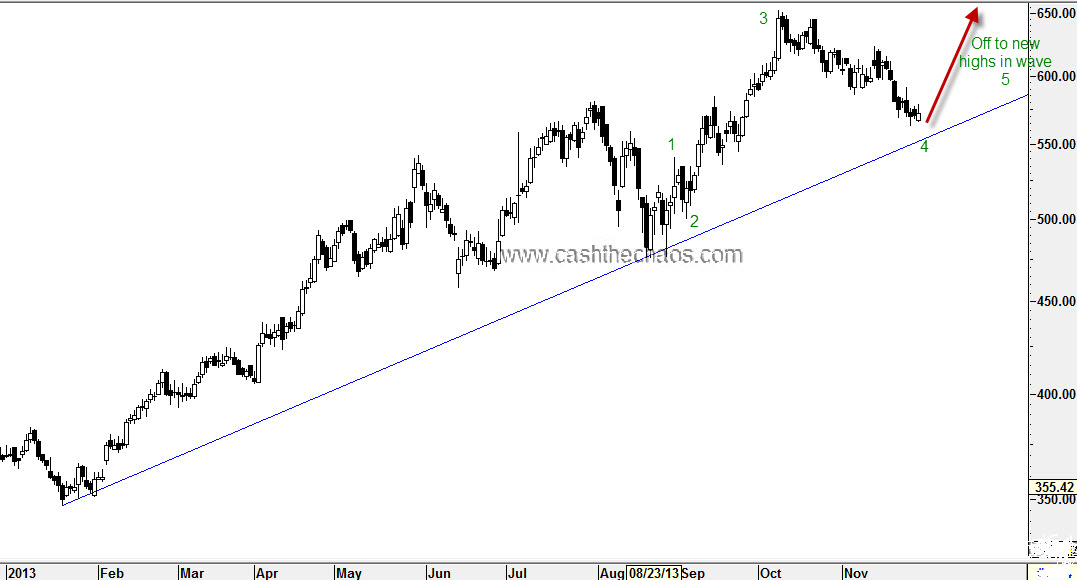 Legal Disclaimer: This post gives an idea of how a trader chooses low risk entry points for trading and hence what you see in this post is for educational purpose only. This is no solicitation to buy or sell securities. I'm not a registered investment advisor and if you decide to take action on the above idea, you are agreeing that you take full responsibility for the profit or loss that you may sustain based on such decisions and agreeing to indemnify the author of the same.  You may have seen me on TV suggesting successful trade ideas but remember trading is inherently risky and past performance is no guarantee of future outcome.