S&p 500: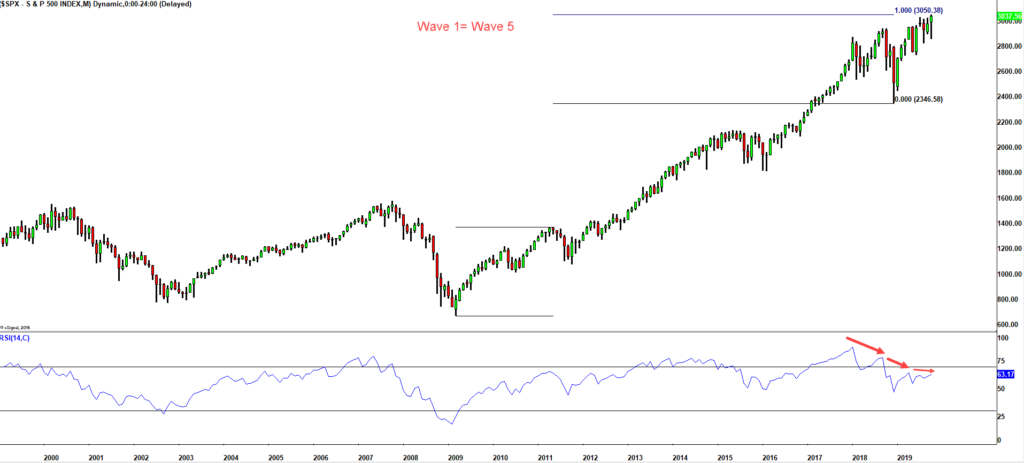 As can be seen from the monthly chart of S&P 500, the momentum for the Index has been dropping precipitously with each new high. (The loss of momentum is pretty much the same on Nasdaq & Dow as well). Under the Elliott Wave Model, I see the move from Dec 2018 as start of the 5th wave for S&P for the bull run that began in 2009. The wave principle states that two of the impulse waves tend towards equality. This is shown in the chart above.
Incidentally, Oct 2019 is 144 months from the high of financial crisis high - a very important Gann number. Invariably, significant highs and low's get registered from previous peaks and troughs (with a very tiny bit of tolerance on either side of this number)
Other Indices:
The Dow Jones Industrial is yet to clock record high. While it's not far off  and it may even clock fresh high in the next couple of days, it is lagging. We can even ignore this but: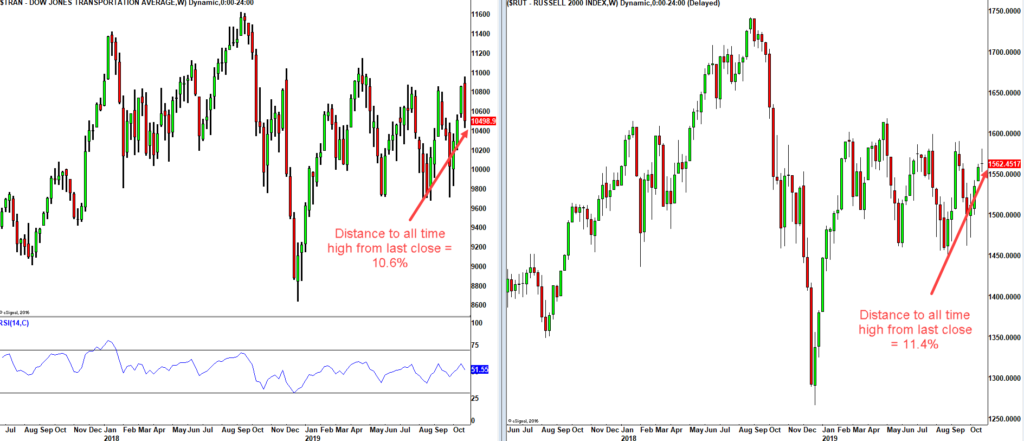 The Dow Transports and the small cap Russell 2000 (shown in the chart above) indices are over 10% from their record highs.
The famous FANG stocks which have been an important cog in this bull run are all lagging. Google while close to its all time high, failed to cross 1290 for the 3rd time. To clock fresh all time high - Netflix needs 45% +, Amazon 15% and Facebook 14%.
Sentiment:
At the record high of 3050 on the S&P reached couple of days back, the sentiment readings are very elevated. The number of futures traders who were bullish reached 80% (courtesy Daily Sentiment Index).  I've seen this reading go to 95% but this is at the extreme zone.
Here is another picture:

As I have shown on the monthly chart of  the S&P,  Wave 1 is right now = Wave 5. A sentiment equality could also be shaping up. In May 2011, Bin Laden was killed by US forces, post that , the S&P dropped 20%. Here just before the 3050 high, Al-Baghdadi has been killed by the US forces. This is once again being hailed as big amelioration of Geo-politcal risks for the market. Will history repeat?
I had spelt some of these thoughts on BQ here: