Heromotors seems to be having some sort of love for double tops. The chart below shows the recent chart pattern for this stock.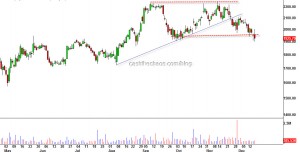 Regulars of this blog would recall from here that ahead of Heromotor's announcement of ending its tie-up with Honda there was a similar formation and the stock had a sharp drop to 1375.
Once again there is a double top pattern in this stock when the benchmark indices are set to fall further. What can also be seen from the bottom panel is a huge block crossed ahead of this lowest close of 1965 and a breach of 1910 on the daily chart. Also the stock seems to have completed its 5th wave on the weekly charts (labels not shown).
Disclosure: My premium subscribers are short here.