The daily charts of Nymex Crude registered a very important price action which could potentially mark a trend reversal. In technical parlance this is called a bearish outside day or a bearish engulfing candle.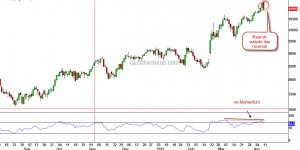 Momentum readings have also diverged negatively with this occurrence and the number of contracts that accompanied this sell-off also ticked up (a nice to have). Now why should you pay attention to this? Besides the fact that the 2008 reversal was also a bearish outside day, I'm sure you would have heard and seen reports of $200+ crude over the last few weeks flying thick and fast. Essentially, it is a very crowded trade.
Now if crude does come down, do not be mislead into thinking that a falling crude may be the new impetus for stocks. If this is indeed a reversal for Crude, stocks are also likely to start a new downtrend or resume the previous down draft depending on which markets you are focussing on. Here is an interesting snippet regarding crude from one of my past interviews:
httpv://www.youtube.com/watch?v=hJuWU1GEYD0
As a reality check, let me also add that I do not see such a reversal in Brent Crude. It would have been another nice to have and would have added more weight to the reversal.