The price action over the last few days have been quite significant. Many world indices have seen reversal in their major trend.
S&P 500:
In my last post, I had warned that the S&P was poised to break the lows of June. Not only did that happen, the S&P took out the "Earthquake low" of March both on an intraday and closing basis. Some technicians might even make a case for a head and shoulders top for the S&P (see the violet ovals and the violet dotted line). Excluding the Nasdaq ,all other important indices -the transports, the industrials, Russell have also blown through their June lows and they all make a strong case for the start of a primary downtrend in the US markets.
FTSE:
UK's FTSE index in a similar fashion has plunged through the June and "Earthquake lows". The close below 5650-5600 zone marks the completion of a triple top. Over the next few weeks and months one can expect this index to drop to about 5100.
French CAC:
The CAC 40 was first among the major European indices to drop below its major support and reverse into a primary downtrend. The Index is trading at a 11month and has found temporary support at the 3400 levels. Look for more selling pressure post a relief rally.
German DAX: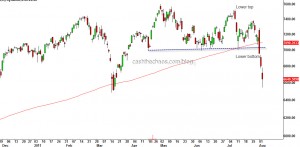 The German DAX though above the March low, has clocked a clearly identifiable lower tops and lower bottoms and thus has slipped into a clear primary downtrend. As a confirmation to this reversal, it is very likely that we will see a move below 6500 on the DAX in the short-term.
A noticeable uniform similarity in all these charts is that all the indices are trading far below their respective 200 day moving average (the red line). This is not a corrective behaviour, this is typical bear market behaviour. While EM and DM looked oversold and are likely to bounce in the next few sessions, one must not mistake the relief rally as the end of the correction. I, for one,  would look for signs of the contagion spreading. Its starting to look like 2008 for global stock markets.