If you have been following my views on business channels, you would know that I have been saying for quite some time now that the decline in stock markets is not just restricted to one or two stock markets in the world. Many markets, frontier and emerging have been taking it in on their chin.
Yesterday, Singapore's STI joined the list of stock indices that have slipped into bear market territory.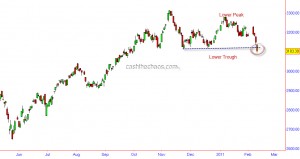 The index ploughed through its previous trough and clocked lower top and lower bottom. The Hang Seng Index too is just within a hair's breadth of clocking lower lows and lower highs. A close for the Hang Seng Index below 22620( 88 points below yesterday's close) and this index can also be marked as having entered a bear market. The contagion is spreading.