Nifty(5065.20): Nifty opened lower and drifted to support zone near 4985 before ending the day mildly higher from the lows of the day. The low of 4989 was just 4 points higher than the perfect 61.8% retracement of the move from October low of 4728 to October high of 5400. Essentially, Nifty may have found support in the extreme short-term. If you re-visit yesterday's note, the projected path for the red wave 4 was one dip below the low of wave blue v and that is exactly what came through from 5059 (a small panic to 4989).
The idealised path for red wave 4 is shown above and we should red wave 4 to find resistance around 5150 zone. I'm also leaning towards the probability that what I have marked as red 3 may actually be subdivision 1 of  red 3 and the red 4 may actually be subdivision 2 of red 3. The implication of this this alternate count is that the next leg of decline from around 5150 (or wherever the correction ends) we are likely to see a very strong decline that may even break this year's low at 4720. For this alternate possibility to maintain value, we should see Nifty stay under 5225.
One of my time pivots points to an important low or high is coming through on December 8th (with 1 trading day tolerance on either side). So if the alternate count on Nifty is going to be right, expect a washout low around December 8th.
So if you are one of those who got long yesterday, you might be better of booking trades above 5140 Nifty and any longer-term position needs to be hedged.
Open Position: Silver short with stop of $35.7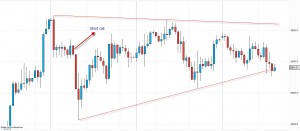 The above chart of Silver is a four hour price action since our short call. The metal seems set for a break of a triangle pattern but is still hesitating. As I write this, silver is trading at $33.80, if you hold multiple contracts take some profits here (I assume you got in around $34.20 like me) and maintain the same stop. If you are getting uncomfortable with this trade you can close the trade and jump back in when Silver breaches 33.15. Officially, I'm leaving this call open.
PS: I think the market is pricing in some kind monetisation by ECB which may explain the weakness in Euro along with strength in the Dollar along with Precious metals(PM's more often go inverse the dollar). This is just a wild guess.