The decline over the past few weeks has started to signal a top in some of the equity markets around the world. The Canadian TSX is one of those.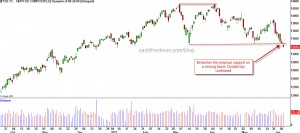 The chart above shows a confirmed double top for the Canadian TSX composite index. By conventional measuring techniques and by  Elliot wave principle this index should decline to 12300-11000 over the next several weeks from its current level of 13183.
The US S&P's decline below the April low is starting to resemble like the beginning of a powerful third wave. I expect a short-term bounce that relieves the oversold state and gets met with strong supply under 1311 S&P. If that happens expect the lows of  1248 (the post earthquake low ) to give way and the 1173-74 level will draw prices towards it. The next few days are key to this view.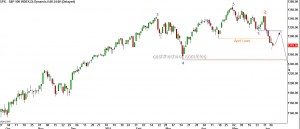 Bottom Line: The global markets structure has started to weaken – The Russsian RTSI after a head and shoulder top in May is declining steadily; the Brazilian Bovespa has been clocking lower tops and lower bottoms since November just like the India Nifty (though this is marginally stronger in relative terms) ; the Shanghai Index too has been taking it on its chin since April.