Nifty(4905): So far the short covering seems less apparent but as long as Nifty stays above 4830, we must assume the relief rally is in play (wave red 4)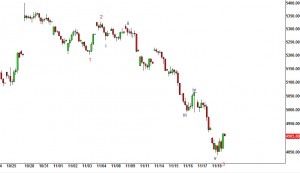 In the event that 4830 is broken, there is a minor support at 4803 and only 4730 below that. The odds that it will sink straight there looks less likely. But extensions are difficult to pin down. On the higher side, the big resistance is at 5015. If Nifty does manage to go above that in the next few days, 5140 will put a cap on this rally and will present a low risk selling opportunity.
If anything calls for your attention, will alert by sms.